Aaron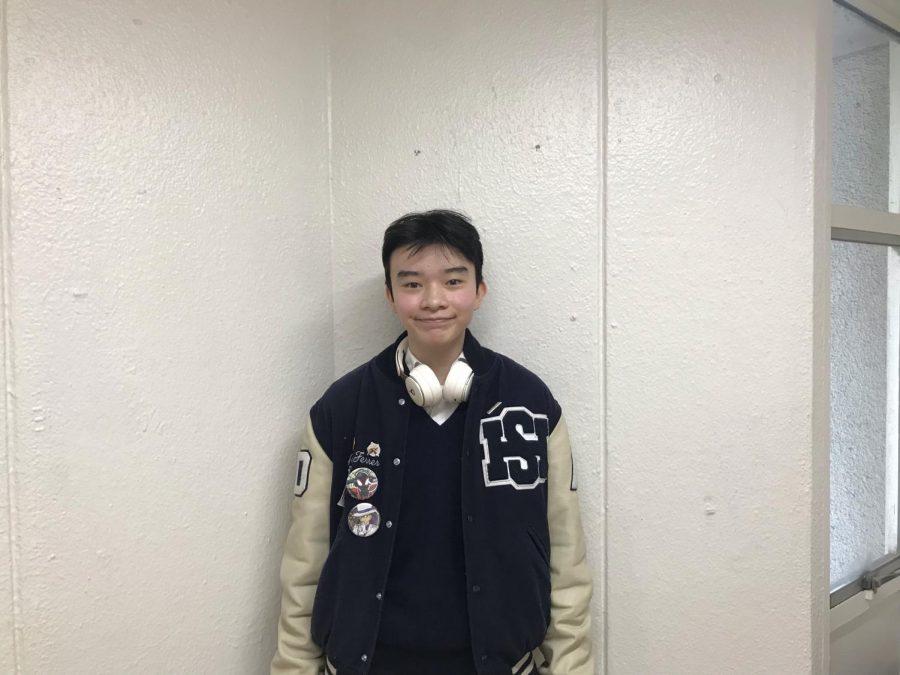 "My name is Aaron. My dead name or the name I was assigned to at birth, is Amelie. I've been at ISSH for 13 years, so since K5, and am a veteran. I identify as transgender and I came out as transgender between the end of my freshman year and the beginning of my sophomore year. 
My dad doesn't really care about who I identify as, so that's really cool. He just accepts it. He still calls me his daughter and she/her pronouns, which is a little sad. My mom thinks that I am going through a phase, which is an understandable viewpoint that many parents with transgender children first have. I think many people misunderstand the difference between gender and sexuality. For example, people ask a transgender gay man, why he transitioned if he wanted to be with a man. People ask why he didn't stay as a woman and date men, and be 'normal'. But that isn't the point. The point is that he wanted to love men as a man. That's kind of what I said to my mom because she didn't understand what I was going through. She accepts sexuality, but she just doesn't understand gender. It is also harder to explain to her how I am feeling, who I want to be, and who I am because of the divide between the English and the Japanese language. At this point, she accepts that I like my hair short, I would never wear dresses, I wear guy clothes, and that I have a binder on that suppresses my chest. I don't think she wants to call me her son yet, because it's kind of weird for her. I understand it. It's a little disheartening, but I understand it from her perspective. I'm just trying to give her time to understand who I am. 
School wise was actually great. I thought it was going to be a little controversial because we're in a Catholic, all-girls school. I honestly thought they were going to kick me out. It all started with the GSA club. The GSA sponsor, Mr. Sharp, kind of tried to clarify with me what I wanted from the school specifically, and it was mainly just for my name to be Aaron. At this point, most of my teachers call me he/him because they either caught on or heard from other teachers about it. But some teachers still call me she/her pronouns, because they just don't know, and that's fine. Generally, the teachers are great! For my senior portrait, I was not comfortable with the bib. I asked Ms. Young if I could wear a shirt beneath the bib. She said that it was totally fine if I wore a navy blouse. So it was pretty quick and smooth. Ms. Young has been a great help to me throughout this transition in accepting myself. She has been super supportive of me and the GSA for as long as I can remember. 
I get asked why I still go to Sacred Heart from a lot of people from other schools, which is understandable. Honestly, I have wanted to change schools, maybe move to ASIJ, but I realized that I already have a community here that I am comfortable with. I feel accepted here and I don't see my friends as "girls", I see them as my friends and I think they see me the same way– they see me as a friend. Also, when I did finally accept myself as transgender, it was already sophomore year. So, I decided to stay here.  
I think I have been accepted by my friends at school and the people I care about, which is honestly good enough for me. Accepting myself has been a challenge because I have been in denial for most of my freshman year, sophomore year, and most of my middle school years. I did say that I was gay at first because that seemed a little less scary than just saying that I am a completely different gender. It was difficult to really grasp who I was. But once I did, it was one of the things I was confident about, the fact that I am a man, and most of the time I present as a guy. 
Our school is very accepting of the LGBTQ community. Some schools, not name dropping, but some Christian schools specifically, they're not against it, but they don't promote LGBTQ stuff, because they don't want to be known as the gay activist school. Some people that I have met who are GSA leaders or GSA members from other schools felt kind of oppressed by their teachers because they didn't understand or accept who they were. But our school specifically, we want to accept anybody. No matter their race, ethnicity, sexuality, gender. The GSA club helps provide a space for people of different genders and sexualities to come together and bond. Another important part of GSA is that it offers a safe space for people to be able to talk about themselves, like their stories, stuff they don't feel comfortable talking about to other people. We keep it within our club.
I have gone through a gender and sexuality crisis. When I was searching for my gender, I wanted a label. Some people find labels comforting. I realized that I know what my gender is and I am unsure about my sexuality, but for me, that's an ongoing journey. I want people to know that it's fine that it's an ongoing journey because that's what life is." – Aaron