AP Capstone diploma program arrives at Sacred Heart
Welcome, AP Capstone!
Starting this year (SY 19-20), Sacred Heart integrated the AP Capstone Diploma Program into its curriculum. AP Capstone is an emerging two-year program from the College Board that includes the first year AP Seminar course and the second year AP Research course. According to College Board, the number of participating students in the Capstone program has increased from 15,000 to more than 40,000 in 2018 since its launch in 2014.
Adding the Capstone program to the curriculum required a series of careful administrative decisions. Ms. Young, our High School Principal, shares that "the school was ready" to implement the program as students have earned very good AP results each year. With these two new courses, Sacred Heart now offers a total of 21 AP courses.
The Capstone program provides students with an opportunity to earn the AP Capstone Diploma, which may be useful during college admissions. Students are eligible to earn the Diploma by scoring a 3 or higher in both the AP Seminar and AP Research exams as well as in four more additional AP exams of their choice. For students who do not fulfill the requirement on the four additional exams will instead receive the AP Seminar and Research Certificate. 
Current students in the AP Seminar course reveal their motivations and reasons for joining the new class. Miran K. (11) shares a popular motive among students, "I decided to join AP Seminar to earn the Capstone Diploma. I thought that would be a nice reward for finishing high school." In a different light, Saki I. (11) states, "I decided to take Seminar because I learned that it was similar to debate and that you get to think outside the box. I liked that it was a mixture of social studies and English, especially because I decided not to take AP English." Moreover, Alysa R. (12) shares, "I joined AP Seminar because it was a new class and I was curious. I've read about how the class was research based and I thought it would be helpful." Another senior, Erisa Y. (12), states, "I took AP Seminar because I didn't want to take Wise Freedom during block A. I wanted to fill up my block with a useful class."
What sets AP Seminar and Research courses apart from other AP courses is that they focus on developing student skills in research, analysis, writing, and presenting, unlike most AP courses that have rigid course outlines with subject-specific content. In fact, Ms. Young shares that her favorite part of the program is its interdisciplinary nature, stating, "so much of high school work is focused on the subject — but in the world beyond school, you have to know about a lot of different fields and work across different disciplines." 
Mr. Baker, the AP Seminar teacher, states that the course "helps students improve their skills in public speaking, persuading others, and writing arguments." This year, he began the course with a unit on sports and investigated its connection to the environment, technology, and nationalism. In addition, Mr. Baker has also taught his students how to "use academic sources like Jstor and to find information in sources other than Google or Wikipedia."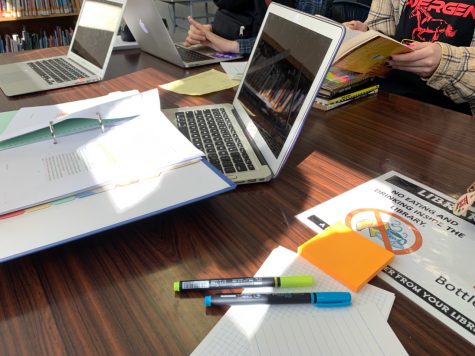 Students also express appreciation for the AP Seminar class. Alisa B. (12) believes that the courses will help her in college, commenting "I feel like this is what we're going to do in college a lot, like writing research papers, making presentations, and preparing to have people object against what you are saying and having to defend what you are saying." Similarly, Miran K. (11) enjoys the exploration and freedom the course offers, stating "I like AP Seminar and Research because you are allowed to choose your own research topics. Right now, I'm talking about the development of drones and how it's going to affect international law—and I'm currently interested in international law so it's good that I can connect my interests to what I do in class." Moreover, Alysa R. (12) shares, "Seminar has taught me to be more confident in my public speaking skills. I've learned how to use effective phrases when presenting and how to grab the listener's attention."
Undoubtedly, AP Capstone courses do demand a lot of work and time. Saki I. (11), who takes double science courses alongside AP Seminar, has decided to not take AP Research next year. She gives insight to the amount of work Seminar requires outside of the classroom: "When we do a team presentation, we need to write our own individual reports, work together, find time to actually get together, and figure out what we're doing—I don't think I'm going to have enough time to do that next year." Similarly, Mr. Horn, who taught AP Research in his previous school, believes that "almost any student would benefit from the experience, especially anybody planning on going to university," but that "there's a certain level of responsibility and drive that needs to come from within that not all students might not be ready for yet." 
Ms. Young believes that Sacred Heart students are prepared to take on the rigor of the AP Capstone classes by the time they reach grade 11. She states, "the way our program is set up, students build up such a good foundation up to the end of grade 10. With that academic background, the majority of our students will be able to perform well." 
Changes to the Elective Blocks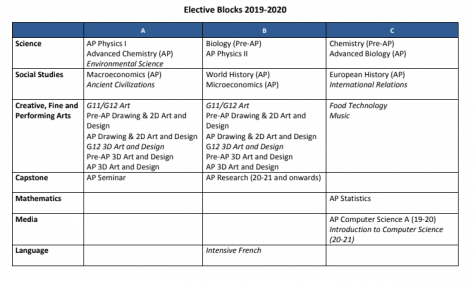 Adding new courses also meant that changes had to be made to the elective schedule. From an administrative perspective, Ms. Young addresses that the biggest challenge was to fit the Capstone courses into the electives: "We are a small school and we offer so much—we had to figure out how we could offer it in a way that would benefit the largest number of students who wanted to try it." As a result, AP Seminar is offered in elective A and AP Research will be offered in elective B starting next school year. 
The new elective schedule affected several of the current seniors, who could no longer take the electives that had planned to take since sophomore year. Alisa B. (12), who had to change her course shares, "I was planning to take AP Euro but since it was moved to another block, I couldn't take the course, so I enrolled in Seminar instead. I was a little upset because I had planned all of my elective courses in 10th grade, but I think Seminar is an important course so I'm happy I took it." In a similar light, Ms. Young comments, "It was interesting to see how students adjusted. I think that the current seniors were very flexible and I was so happy to see so many seniors actually take the course even though they knew they couldn't work towards the Diploma."
Moreover, Mr. Horn shares his thoughts on AP Research coming to school next year: "I think that it's something that students probably don't get the opportunity to do enough of which is, to ask original questions, and then have the time allotted for actually pursuing those original questions."
The AP Capstone Program seems likely to benefit many Sacred Heart students with its extensive research, writing, and presentation opportunities, preparing them for life beyond the classroom.