Class of 2020: Where are they now?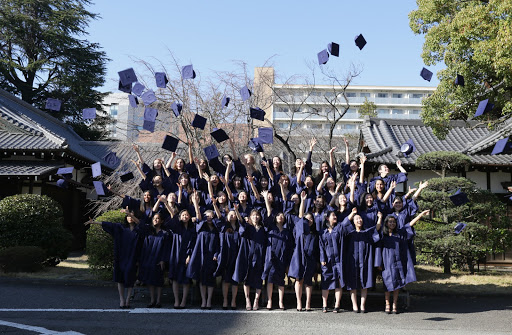 The typical first year of university is filled with learning with distinguished faculty, diverse friends, and indulging in a brand new, exciting college experience. 
Unfortunately, COVID-19 had other plans. 
For the recent graduates in the Class of 2020, the first year out of high school is anything but typical. With global cases exceeding 115 million (and counting), the future has never looked more uncertain and the world is doing its best to accommodate. Universities and colleges are no exception: as central hubs for students and teachers alike, all campuses have adopted new conditions to prevent the further spread of COVID-19. For the graduates of 2020, changes to university policies have undoubtedly altered their first year of university.
As of June of 2020, 98% of worldwide institutions had moved the majority of in-person classes online. Now, many of Sacred Heart's Class of 2020 still reside in Tokyo to take virtual classes at unconventional hours.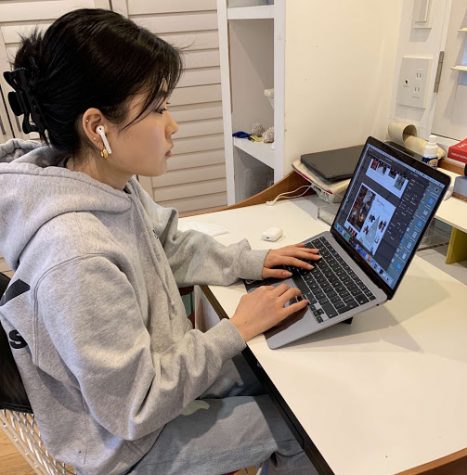 For Erika Kanroji ('20), late-night online classes are now her way of life. 
At the beginning of the 2020-2021 school year, her plans to study as a student at the University of the Arts London seemed likely and bright. With her university's encouragement, she moved into her London dormitory, enrolled and took part in several in-person classes, and quickly made friends in London's small circle of university students. However, in mid-October, Britain's cases began to rise and her flatmate contracted COVID-19, which forced her to quarantine. Soon after, the whole of London went into lockdown and she immediately decided to come back to Japan. 
With her possessions still stashed in her London accommodation, Erika was thrust back to Japan in mid-December and has since then taken online classes in London time. Her classes dominate all weekdays and occasional Saturday nights, with the earliest classes starting from 7 p.m. and the latest ending at 2 a.m. Erika views her first semester nearly as if she is wasting away both her "time and money": "There was no reduction in the fee: I'm still paying for all campus fees. They don't provide for any supplies so I spend time trying to find these expensive art supplies myself."
Furthermore, she definitely senses that her learning ability is limited, especially as an art student. "It's one thing to just listen to lectures at 2 a.m., but I usually have to also paint and draw, and continue working past these times." The simple act of "physically" working at 2 a.m. in the morning is understandably exhausting, and she wakes up midday to late-afternoon only to continue her large load of assignments. She also says that class content originally intended for groups feels awkward in the space of your own home. Opportunities from taking photo portraits of classmates to attending fashion shows are entirely missed. 
Although she does want to go back to London, Erika confesses that staying in Japan is probably the best choice as she would not "want to travel there only to be sent back." Her advice to the current seniors, who will most likely face similar circumstances in their upcoming year, is to be flexible. "Know that whatever situation the pandemic is in, any country can go into lockdown out of nowhere. You don't know what's going to happen. Just realize that your university experience could be drastically different and accept it best as you can."
Some university first-years have opted to take a gap year, giving them a full academic year between high school and university all to themselves. In non-global-pandemic circumstances, only three percent of students decide to take a gap year to travel, volunteer, work, or spend time with family—this number has reached 40% in the United States under COVID-19 circumstances.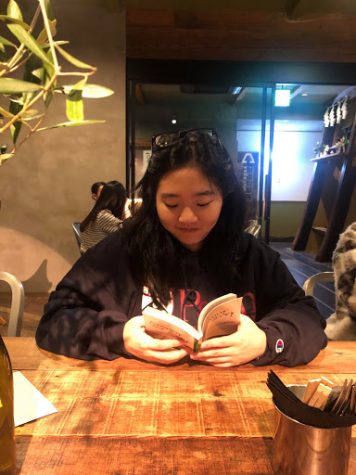 For Janice Yoon ('20), taking a gap year from the University of Pennsylvania was the right choice, especially after experiencing online learning in the second semester of high school senior year. She understood how focusing on virtual high school classes was difficult, let alone university-level classes taken completely online. "I knew from my experience and watching my friends that it would be very hard to achieve the grades I wanted in the first semester of college," she said. 
And in the few months, Janice "definitely" has not regretted taking a gap year. 
Most of her time is spent with her family and friends, split between Japan and Korea. In Korea, she developed a close network of upperclassmen and first-year friends across different universities. As one of the only students who chose to take a gap year, she is in a unique position to listen to other's experiences in virtual learning and take advice for her upcoming year. In Japan, she eats daily brunches and takes long walks to Aoyama with her mother, and hangs out with friends. With more time at home during school hours, she has come to realize and appreciate just how much her mother was doing at home while she was studying. "It seems really minor, but I don't think it's an experience I will ever be able to do again."
To her, these few months of her gap year are a once-in-a-lifetime opportunity to appreciate being in the moment. "In your entire life, you are probably never going to have a period of time when you have absolutely nothing to do but your future is guaranteed. You will never be able to fully enjoy your freedom as you can now."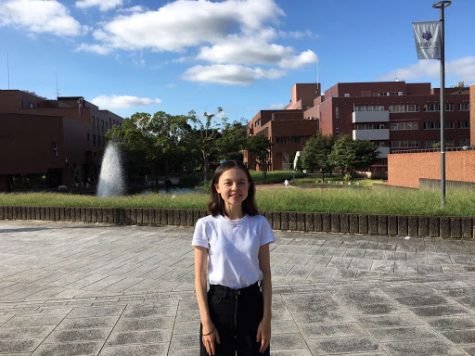 Unlike the universities in the US and the UK, schools such as the University of Tsukuba have opened limited numbers of in-person classes. Alisa Belitz ('20) had spent the past semester at the university campus and dorms, with roughly a quarter of classes in-person and the rest done virtually. 
Alisa's virtual classes consisted of both pre-recorded videos and real-time calls. This gave Alisa flexibility to rewatch videos until she fully understood concepts while having interactive, discussion-based calls to interact with professors and classmates through the screen.
Alisa is one of the few in the class of 2020 who can experience in-person classes. The University of Tsukuba, as well as other schools that have adopted a hybrid class model, take proper precautions to allow for face-to-face interactions. The only in-person classes permitted are held in big lecture classrooms and students sit in assigned seats to allow for contact tracing. The university provides wet sanitizing sheets, and masks are strictly required. Alisa emphasizes that in-person learning was possible as everyone followed safety precautions to their best ability and was transparent with their actions. Thanks to everyone's cooperation, she truly felt "safe and not uncomfortable at all" to take classes in-person. 
As an avid athlete and foodie, Alisa takes part in an intramural basketball team and a cooking club. For these extra-curriculars, Alisa is required to send two week's worth of temperatures and sickness reports to the club's leader, which is relayed back to the university. A smooth flow of information and support of preventative measures allows for Alisa to participate in clubs and sports teams without worry, just as a typical first-year student would have done. 
Even with some in-person classes and extracurriculars, Alisa felt that "at the beginning, it was quite lonely. It was hard to make friends and I obviously wanted some human interactions". But as her university allowed students to safely mingle in rooms and participate in extracurricular activities, she is slowly able to make friends and feel both happy and grateful for her experiences. Most of all, she reveals that "I'm glad to be able to stay in Japan and maintain my normal daily schedule. Even though some of my classes are online, I can still make friends in my dorm or extracurriculars, or in-person classes. I can still be with my family during the day at normal times. I'm really happy about the choice I made."
COVID-19 vaccinations for the general public are expected to start from around July in Japan but everyday life, especially for university students, might still be far away from returning to become fully "normal". Whether they are learning virtually from home, taking a gap year, or taking a hybrid course load, Sacred Heart class of 2020's diverse experiences exemplify how they have adapted well to make the best of their time in these uncertain times.