Although the grammar of "Bake Cheese Tart" is questionable, the taste isn't!
The "Bake Cheese Tart" is one of Tokyo's finest–and cheapest dessert creations.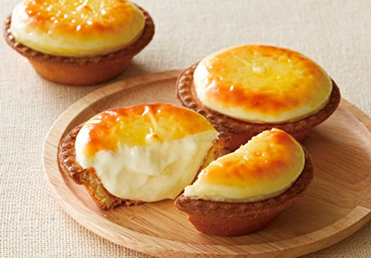 Although snow is undeniably pleasant and beautiful, you can't help feeling burdened by the sharp wind pecking at your cheeks or the icy frost biting your fingers. As you manage to fight the cold and enter your house, you begin to crave something warm. But your hands are definitely too tired to tear open a Swiss Miss Cocoa packet. And forget about returning to your battle with the cold to purchase red bean soup or corn potage from the vending machine.
Just when you have convinced yourself that the world has ended, you receive a bright orange cover with black bold letters reading, "BAKE CHEESE TART". Opening the package, your eyes are greeted by the mini-circular pie crusts with cheesecake erupting from the center.
Curiosity dominates your thoughts, and you take a small, cautious bite of the cheesecake tart. The texture of the crust resembles that of a soft, but firm Marie Gold biscuit drizzled with pure, acacia honey. It is so light–quickly dissolving away in your mouth before a storm of cookie crumbs can cover your clothes.
But you have yet to reach the climax. With just the desired amount of cream cheese, vanilla, and whipping cream, the smooth cheesecake filling of the tart will sweeten your bitter hatred towards the cold.
One fifth tart, 40% cheesecake, 20% souffle, and the last fifth custard, this dessert works because of the unique blend of Greek and French pâtissière. From Jiyugaoka to Shinjuku, you are justified in joining the long queues for these sweets, as they are only 200 yen. Whether you heat them up to defy the cold or chill them to add crunch, let these revolutionary tarts brighten your day.